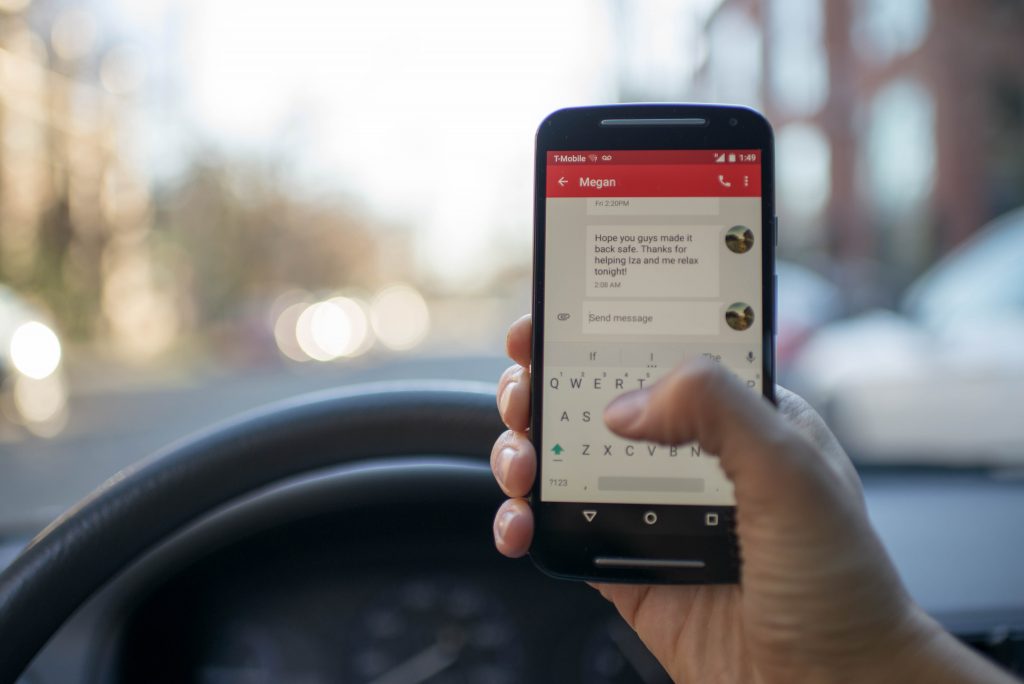 How often do you drive distracted? Text messaging, studying the GPS, or even checking Facebook; every person reading this has probably engaged in at least one of these distractions while driving. How often are you the one doing the distracting as a passenger? The car can become an excellent opportunity to air one's grievances to a captive audience.  But when would a fight in a car, text messaging, or something else rise to passenger liability in the event of a car accident? The Louisiana Third Circuit Court of Appeal recently grappled with this question choosing to limit impositions of passenger liability to almost everyone's relief.  
In October 2013, Joseph Zeno picked up Christy Robinette from Blue Cliff College in Lafayette for a lunch date.  Shortly after she got in the car, the pair started to argue. The argument became so intense that Mr. Zeno intended to drop Ms. Robinette back at her school rather than continue on their journey.  Mr. Zeno put his car in reverse and then collided with the car behind him. Ms. Robinette filed a lawsuit for her injuries, but Mr. Zeno asserted that she was at least partially at fault for distracting Mr. Zeno with her screaming and cursing just prior to the accident. 
Before the Judicial District Court for the Parish of Lafayette, Ms. Robinette won a motion for summary judgment on the issue of liability.  The District Court agreed that there was no issue of material fact regarding Mr. Zeno being at fault for the accident. Because Mr. Zeno and the insurance company believed Ms. Robinette to be partially, if not completely, at fault because of her behavior in the car, they appealed to the Third Circuit seeking to expand passenger liability in Louisiana.  
The Third Circuit noted that Louisiana case law consistently held that a driver's negligence could not be imposed upon a passenger. See Adams v. Sec. Ins. Co. of Hartford, 543 So.2d 480 (La. 1989).  Louisiana courts have declined to extend liability to a passenger, finding it unrealistic that a passenger has any control or right over the driver.  See Nowell v. State Farm Mut. Auto Ins. Co., 576 So.2d 77 (La. Ct. App. 1991).  Passengers can be held liable in very special, out of the ordinary cases, such as when the passenger had knowledge that the driver was in some way impaired. See Sledge v. Cont'l Cas. Co. 639 So.2d. 805 (La. Ct. App. 1994) (holding liable the passenger parent who fell asleep while licensed minor was driving). Passengers could also be held liable for their own independent negligent acts or in a joint venture situation. Passengers engaging in heated arguments have never been found liable for a driver's negligence.   
The Third Circuit in this case agreed with the District Court that there was no precedent in Louisiana law for holding a passenger responsible for a driver's accident because of a heated argument. The Third Circuit specifically noted that to hold Ms. Robinette liable would expand passenger liability well beyond the standard in any other jurisdiction.  She was screaming and yelling. There is no evidence, however, that she made physical contact with Mr. Zeno, impaired his vision, or encouraged him to drive negligently. The Third Circuit noted that to hold Ms. Robinette liable would remove a driver from their own responsibility to drive in a non-negligent manner any time a passenger acted negatively.  The duty of care lies with the driver; thus, the Third Circuit found summary judgment in favor of Ms. Robinette was proper as there were no material facts which could result in her liability.   
An excellent lawyer knows how to analyze the available case law to show a court when there is no precedent for liability.  This case provides a bright-line rule that arguing with a driver, by itself, will not result in passenger liability. Fortunately for Ms. Robinette, she was able to show the Third Circuit that, under the law, she simply could not be held liable in her specific set of facts.  
Additional Sources: CHRISTY ROBINETTE VERSUS OLD REPUBLIC INSURANCE COMPANY, ET.AL. 
Written by Berniard Law Firm Blog Writer: Stephanie Burnham 
Additional Berniard Law Firm Articles on Louisiana Passenger Negligence: Court Reaffirms: No Passenger Responsibility in Car Crash Caused by Drunk Driver