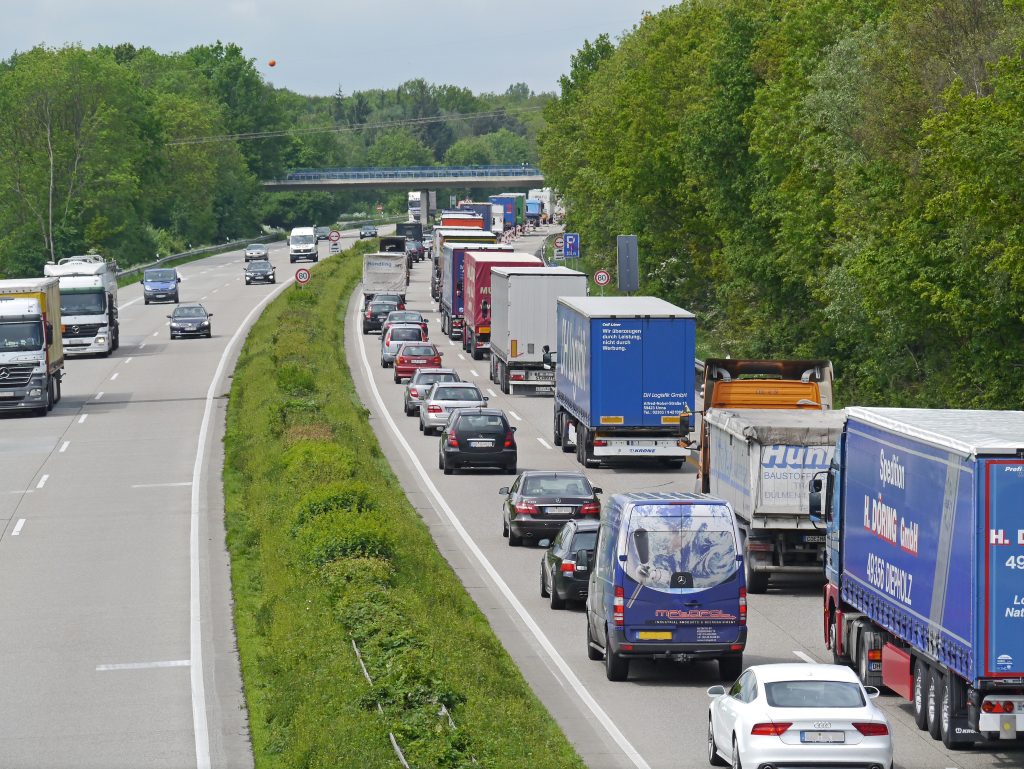 Imagine you were just in an accident, and you pulled over on the shoulder of the interstate highway. Traffic is roaring in your ears, the wind is whipping past your face, and you can feel the congested car flows as your tires buzz. Luckily, you are not injured. As you are waiting for the police to arrive, another collision happens right beside you two. Brakes are being slammed, and horns are being blown, but the chain reaction is just unstoppable. A third car darts into the road shoulder, toppling the vehicle behind you and slamming it in your direction. You are hit again.
According to the National Highway and Traffic Safety Administration, rear-end collisions are the most common type of car accident in the United States. A pileup accident multiplies the danger of a single rear-end accident. It often causes severe body injuries, expensive medical bills, and piles of insurance paperwork. Who should be held liable for your pain and suffering when pileups occur? A recent case on Interstate 10 explored this question and provided answers for the poor victims.
Mr. Chanthasalo found himself in such a position where he just had a narrow escape from one life-threatening accident but got involved in another. In the first accident, Mr. Chanthasalo was rear-ended by Ms. Deshotel. In the second accident, Ms. Schum was rear-ended by Mr. Mitchell and hit Ms. Deshotel. Mr. Chanthasalo filed a lawsuit in Louisiana trial court against all three cars behind him and their respective insurers, State Farm, USAA Casualty Insurance Company, and Progressive. He later settled with Mr. Mitchell, the last driver, and his insurer. The controversy in the appeal focused mainly on Ms. Deshotel's (the lady that first hit Chanthasalo) liability.
Louisiana tort law states that a fault party has the duty to repair any damage he or she causes to another. La. C.C. art. 2315. It does not matter if the wrongdoer was intentional, negligent, or merely reckless in causing such undesirable damages. Established Louisiana jurisprudence employs a duty-risk analysis to resolve negligence claims. See Roberts v. Benoit, 605 So.2d 1032, 1041 (La. 1991).
To prevail under a negligence claim, the injured party must prove five elements: (1) the wrongdoer had a duty to conform his conduct to a specific standard; (2) the wrongdoer failed to conform his conduct to the appropriate standard; (3) the wrongdoer's substandard conduct was a cause-in-fact of the victim's injuries; (4) the wrongdoer's substandard conduct was a legal cause of the victim's injuries; and (5) there are actual damages. 
In this case, both parties agree that Ms. Deshotel was negligent in following Mr. Chanthasalo too close to leave herself with no reaction time. Therefore, the first and second elements of the duty-risk analysis were met. But for her negligent driving behavior, Mr. Chanthasalo would not have stood on the hazardous shoulder of the interstate highway and would not be easily subject to the following accident. Thus, the third element, "causation," was also met.
The fourth element was a little more troublesome. The Court needed to analyze whether Ms. Deshotel's duty of protection to Mr. Chanthasalo in the first accident could extend to the second accident so that she is also liable for damages resulting in the second accident, where Ms. Deshotel herself was also a victim. The legal inquiry here is whether the injury Mr. Chanthasalo suffered could easily associate with Ms. Deshotel's rear-end. 
Could Ms. Deshotel foresee that the second accident would happen? Not likely. Did Ms. Deshotel cause or contribute to the second accident five to fifteen minutes later? Not at all. Her duty to Mr. Chanthasalo—not to follow too closely—did not extend to cover him for the unrelated risk of injury in future accidents. The Fourth Circuit of Louisiana upheld the trial court's summary judgment to State Farm, Ms. Deshotel's insurer, stating that Ms. Deshotel was not liable for any of Chanthasalo's damages.
The Court also ruled that given that Mr. Chanthasalo has admitted that he suffered no bodily injury in the first accident, he had no ground in claiming a U.M. recovery for the first accident with his insurer Progressive. Since his insurance policy has a $30,000 cap for each accident, he has substantially limited his recovery amount by waiving his entitlement from the first accident. If he did not attribute all his injuries to the second accident, he might still have had a chance to hold Ms. Deshotel liable and claim his insurance benefit.
Without going through the legal test, and considering all possible results, one should never relieve any party's liability. Consulting with an experienced personal injury attorney could help you evaluate the facts and make the best strategy for securing a legal recovery.
Additional Source: BARBARA JEWITT VERSUS NORMA C. ALVAREZ ET AL.
Written by Berniard Law Firm Blog Writer: Yuwei Zhang 
Other Berniard Law Firm Article on Louisiana Car Accidents Cases: Rear-End Collision Case Examines Liability, Statutes in Louisiana.