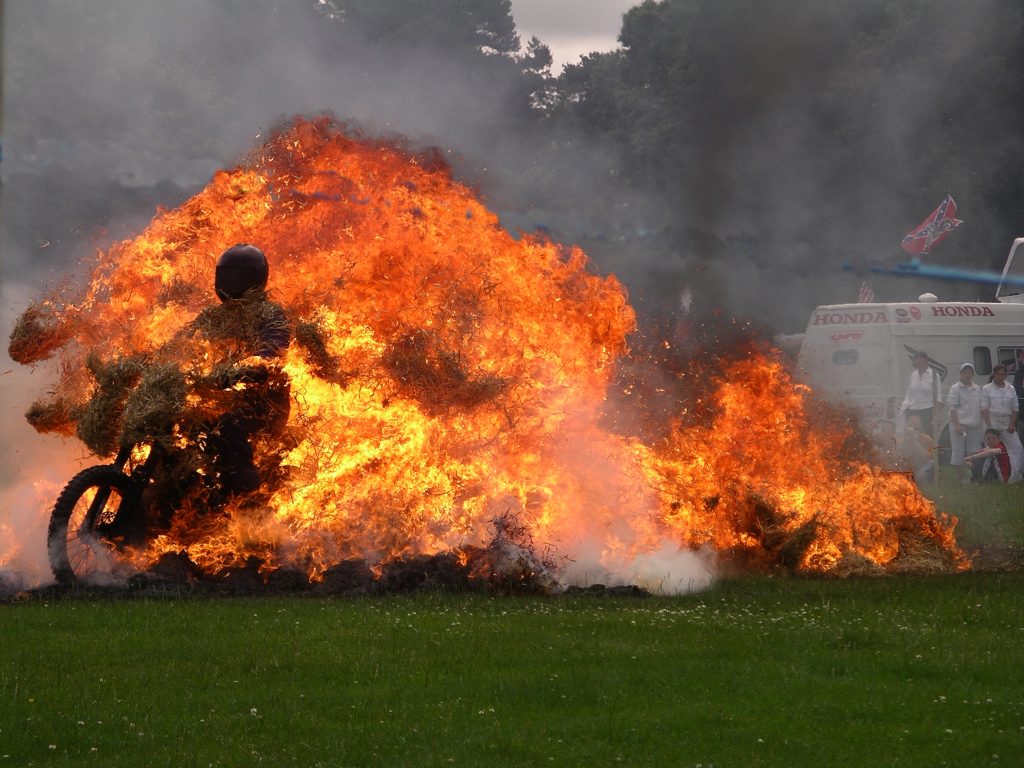 Suffering through an accident is bad enough, but dealing with the aftermath of that accident can be even worse without the help of a great attorney. An often overlooked but critical step in dealing with the consequences of an accident is deciding who to include or exclude from a release, which is a contractual agreement in which one party agrees to give up their right to bring a claim against another party. As Trena and Thomas Garrison learned after their accident in Baton Rouge, a small oversight on a seemingly standard release could result in a substantial loss of potential recovery.
On April 21, 2010, the Garrisons were on their motorcycle driving down O'Neal Lane in Baton Rouge, Louisiana when Mr. Garrison lost control of the motorcycle and crashed. In the months following the accident, Mrs. Garrison released Mr. Garrison, his insurer State Farm Insurance, and all other persons, firms or corporations from any and all claims resulting from the accident in exchange for $25,000.  
About one year later, the Garrisons filed a petition for damages against James Construction Group, LLC. The Garrisons alleged that the accident was caused by a large hole or trench in the road in an area that was under the custody of and being maintained by James Construction. On September 16, 2011, Mrs. Garrison signed an amended release that specifically reserved her rights to bring a claim against James Construction resulting from the April 21, 2010, accident.  
James Construction filed a peremptory exception of res judicata, stating the original release barred any claims against it and that the amended release was of no effect. The court interpreted this to be a claim of res judicata and no right of action. Res judicata means that once a matter has been judged or decided, it cannot be brought back to the court. The purpose of a peremptory exception is to dismiss or defeat the plaintiff's lawsuit.  La. C.C.P. art. 923.  On January 22, 2014, the trial court granted the exceptions of res judicata and no right of action and dismissed the Garrisons' claims. The Garrisons appealed to the First Circuit Court of Appeal.
The First Circuit focused on whether James Construction could benefit from the original release signed by Mrs. Garrison that could bar any claims against it through res judicata or no right of action. A party claiming res judicata based on a compromise agreement must have been a party to the compromise. Ortego v. State, Department of Transportation and Development, 689 So. 2d 1358, 1363 (La. 1997). Following the Louisiana Supreme Court's decision in Ortego, the First Circuit found that James Construction was not a party to the release that Mrs. Garrison signed on July 13, 2010, so they could not rely on it to object to the lawsuit on the basis of res judicata. Also looking to its decision in another case that followed Ortego, the First Circuit said that the element of identity is required for res judicata. Five N Company, LLC v. Stewart, 850 So. 2d 51, 62 (La. Ct. App. 2003).  Likewise, James Construction could not satisfy the element of identity for res judicata, so Mrs. Garrison's release did not bar her and her husband's lawsuit against them.    
In opposing the Garrison's appeal, James Construction relied on Tyler v. Roger, 11 So. 3d 1243 (La. Ct. App. 2009), where the court, in that case, looked to the broad plain language of the release and found that the insurer was released from liability even though it was not a party to the release. But the First Circuit overruled Tyler because it conflicted with  Ortego.  Judge Gaidry also commented that the release in Tyler contained a stipulation pour autrui in favor of the insurer which allowed it to benefit from release and escape liability. A stipulation pour autrui is found in a contract which is in favor of a third person. The First Circuit refused to use Judge Gaidry's comments for the Garrisons' case and found that the release signed by Mrs. Garrison did not contain a stipulation pour autrui in favor of James Construction, but they could use it as a defense if they wished.     
The First Circuit then turned to the objection of no right of action, and whether Mrs. Garrison had an interest in bringing a lawsuit to recover for the injuries she suffered in the motorcycle accident. To succeed on an objection of no right of action, the defendant must show the plaintiff does not have an interest in the subject matter of the lawsuit, or legal capacity to proceed with the lawsuit. The First Circuit stated that Mrs. Garrison had a clear interest in the lawsuit because she was personally involved in the accident and had been injured. The release she signed may be used as a defense by James Construction but that does not mean she had no interest in the subject matter of her lawsuit.
Although the First Circuit decided that James Construction could not use the original release to bar the Garrison's lawsuit on the basis of res judicata or no right of action, they could use the original release as a defense. This lawsuit illustrates the importance of utilizing a skilled attorney. Because the Garrison's attorney advised them well, they were able to recover.
Additional Sources: TRENA GARRISON AND THOMAS GARRISON VERSUS JAMES CONSTRUCTION GROUP, LLC AND XYZ INSURANCE COMPANY
Written by Berniard Law Firm Blog Writer: Sandra Sinclair
Additional Berniard Law Firm Articles on Releases: Does Signing a Settlement Release Extinguish All Claims in Louisiana, Including Cancer?