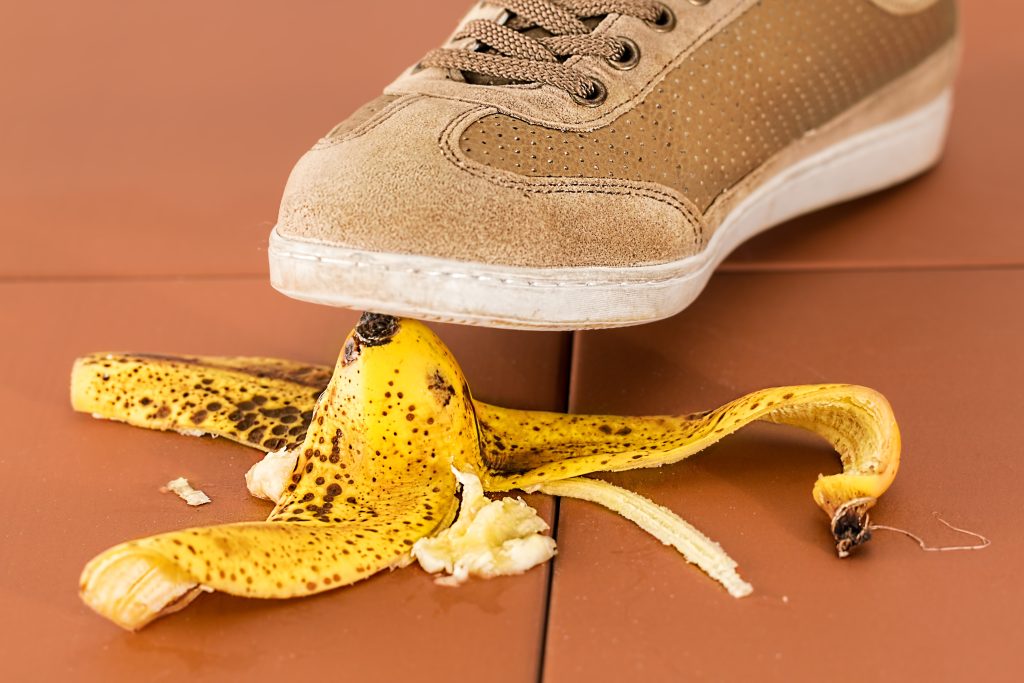 The following scenario is not uncommon. Person enters restaurant without incident.  Same person exits restaurant, fails to notice the one-step curb just beyond the door, falls, gets injured, and files a lawsuit against the restaurant.  When is a restaurant owner responsible for such an incident? A recent case out of Baton Rouge explored this question and provided useful guidelines for owners and patrons alike.  
Debra Williams was exiting Walk-On's, a restaurant in Baton Rouge, when she fell from the sidewalk curb to the parking lot.  Williams was talking with a group of people when she fell and claims she did not see there was a step down. Williams sustained injuries from her fall and filed a lawsuit against Walk-On's and its insurance company, Liberty Mutual. In support of her petition, Williams attached the affidavit of a forensic architect who stated the curb area did not contain any warnings or different paint color. The architect also cited numerous building codes but failed to demonstrate how the codes were applicable to the Walk-On's curb. The trial court found that the architect's affidavit did not factually support Williams's claim and was unpersuasive. The trial court dismissed the case and an appeal followed.  
In Louisiana, a merchant owes a duty to persons using their premises to keep the property in a reasonably safe condition. La. R.S. 9:2800.6(A).  An injured party must prove that the condition causing the injury posed a foreseeable and unreasonable risk of harm and the merchant had actual or constructive notice of the danger but failed to exercise care in removing the danger. See Dupas v. Travelers Prop. Cas. Ins. Co., 762 So.2d 127 (La. Ct. App. 2000). In determining whether a condition is unreasonably dangerous, a court essentially will decide whether the social utility and value of the potential danger will outweigh and justify the potential harm to others. See Reed v. Wal-Mart Stores, Inc. 708 So.2d 362 (La. 1998). Moreover, if a condition is deemed "open and obvious" it will not be deemed to present an unreasonable risk of harm. No legal duty is owed when the condition encountered is obvious and apparent to all. See  Moore v. Murphy Oil USA, Inc., 186 So.3d 135 (La. Ct. App. 2015).  
Louisiana's First Circuit Court of Appeal agreed with the trial court's finding that Williams did not present sufficient evidence to support her claim. Williams failed to show that the curb was unreasonably dangerous. The forensic architect's affidavit did not include any facts about the actual curb which would indicate that it was unreasonably dangerous. The Court of Appeal agreed with the trial court that this was a simple curb in a parking lot, open and obvious, and, based upon the facts presented, one that did not carry an unreasonable risk of harm. As a result, it affirmed the trial court's dismissal of Williams's petition.  
In this case, Williams simply did not present enough facts to support her contention that the curb at Walk-On's presented an unreasonable risk of harm that the restaurant's owner should have repaired or improved. Perhaps she thought that in hiring a forensic architect to opine as an expert on the property's condition, she was building her case and providing enough factual assertions to defeat a motion for summary judgment.  We can only guess. But we can safely assume that the forensic architect did not offer his services for free and that Williams's attempt to recover for her injuries was required to spend some amount of money. An excellent lawyer can help properly evaluate the facts of a personal injury case and strategize the best course to not only survive summary judgment, but recover the maximum amount of damages.  
Additional Source:  WILLIAMS v. LIBERTY MUTUAL FIRE INS. CO.
Written by Berniard Law Firm Blog Writer:  Stephanie Burnham 
Additional Berniard Law Firm Article on Louisiana Slip and Fall Cases:  Injured Worker Fails to Recover in Slip-and-Fall Case Due to "Open and Obvious" Defect