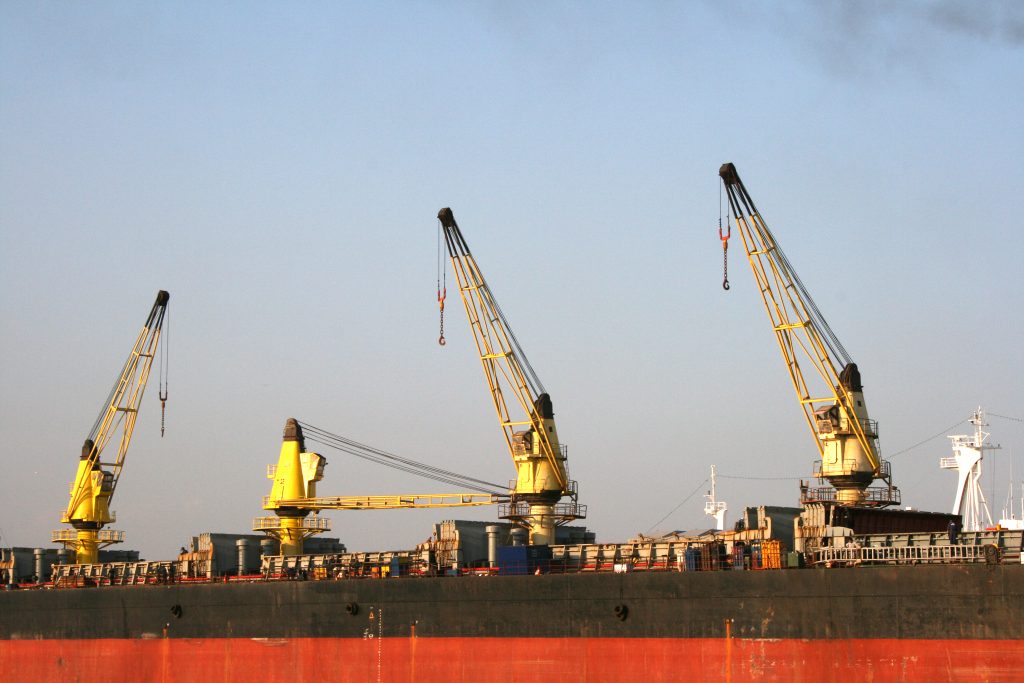 Insurance policy language is carefully crafted to limit the areas of coverage. A Ponchatoula area boating business tried and failed to extend their insurance policy coverage for accidents on the water to a land-based crane accident. So what happens when you try to cover a land based accident with maritime insurance? 
Larry Naquin was operating a land-based crane for Elevating Boats (EBI) when the pedestal of the crane snapped, and the crane toppled over. Mr. Naquin jumped from the crane and broke both of his feet and a suffered a lower abdominal hernia. The crane landed on another EBI employee and that employee was killed. As a result of his injuries, Mr. Naquin had several surgeries and attended physical therapy but was never able to return to physical work.
Mr. Naquin brought a lawsuit under the Jones Act. The Jones Act is a federal law that gives employees that work at sea the ability to sue their employers. At trial, the court held that Mr. Naquin was properly viewed as a Jones Act seaman and that EBI was negligent. Mr. Naquin was awarded $1,000,000 for past and future physical pain and suffering, $1,000,000 for past and future mental pain and suffering, and $400,000 for future lost wages. EBI appealed and challenged the grant of Jones Act seaman status as well as the negligence ruling. EBI lost the appeal and a portion of the verdict was vacated and sent back to the Trial Court.
The trial court eventually allowed EBI to file a third-party complaint against its insurance companies, State National Insurance Company (SNIC) and Certain London Insurers. EBI alleged in the complaint that both insurers breached their insurance contract by denying any claims related to Mr. Naquin and because of this denial they failed to defend EBI and provide indemnity by paying for the accident. SNIC argued for summary judgment and denied that EBI's policy covered the accident primarily because the accident was land-based. The trial court agreed with SNIC and entered summary judgment in favor of SNIC. The case between EBI and its insurers was split from any of Mr. Naquin's negligence claims and on appeal to the federal appellate court, the only issue was whether the granting of summary judgment was proper.
Summary judgment is proper when the party asking for summary judgment proves there is no genuine dispute. Fed. R. Civ. P. 56(a). Federal appellate courts look at summary judgment reviews de novo, which means it considers the case new and without any conclusion or assumption from the lower court.  EEOC v. Chevron Phillips Chem. Co., 570 F.3d 606, 615 (5th Cir. 2009). Federal appellate courts also look at insurance policy interpretations without any conclusions or assumptions from lower courts. Martco Ltd. P'ship v. Wellons, Inc., 588 F.3d 864, 878 (5th Cir. 2009). There was no relevant federal maritime law to apply to this case, so the appellate court was required to apply Louisiana law. The law in Louisiana requires that insurance policies should be interpreted using the plain and ordinary meaning of the words used unless these words have a technical meaning. Louisiana law also requires that contract language should be interpreted to mean what the contract as a whole suggests.  La. C.C. art. 2050.
The appellate court determined that the "indemnity" provision of the insurance policy was the main factor in determining if the Trial Court was correct. This policy provision dealt primarily with the language that said EBI would be covered by the policy for any damages associated with an injury in EBI's capacity "as the owner of the Vessel." SNIC pointed to the "as owner of the Vessel" provision and argued that this meant the policy covered accidents caused on the water and did not apply to Mr. Naquin's accident on a land-based crane.
The appellate court agreed with this argument and ruled in favor of SNIC. It was determined that the land-based craned accident was in no way related to actions on or close to a vessel. There was no way to rationally extend the insurance policy coverage to a strictly land-based accident that had no operational relation between a vessel and the injury sustained by Mr. Naquin. EBI's action as a crane operator caused the harm and that did not make it related to any liability of a shipowner.
EBI was unsuccessful in trying to bring a lawsuit against their insurer for a land-based crane accident when the policy dealt with accidents on the water or involving a boat or vessel. This was unsuccessful because insurance policy language is viewed under the plain meaning of the terms that both parties agreed to. It is always important to consider if proposed insurance policy language would be valid against any possible outcomes caused by your activities.
Additional Sources: LARRY NAQUIN, SR., V. ELEVATING BOATS L.L.C.
Written by Berniard Law Firm Blog Writer: John Trepel
Additional Berniard Law Firm Articles on Maritime Insurance Disputes: Appeals Court Upholds Jones Act Claim for Seaman Injured Off Gulf Coast